The Tool
SponsorOptimizer is a multi-client sponsorship research tool, based on an annual comprehensive survey among a representative sample of the national population, allowing high-quality market research via consistent and comparable methodology.
SponsorOptimizer identifies, what brand values the consumers associate with a wide range of companies, brands and sponsorships. Additionally SponsorOptimizer also uncover how well the consumers know the many companies, brands and sponsorships and how interesting they experience them.
Value profiles of the 400 companies, brands and sponsorships are mapped out from a total of 39 brand values, which among others counts credible, responsible, innovative, popular, serious, energetic, dedicated, inspiring, sustainable and high status.
SponsorOptimizer covers a wide range of industries. Thus, we have identified value profiles of 250 companies and brands within more than 20 industries.
SponsorOptimizer also cover a wide range of the largest national sponsorships. We have mapped value profiles of the 150 largest sponsorships in sports, culture and social sponsorships.
ValueMatch Application
In the spring 2016 we launched a completely new and innovative solution, that makes SponsorOptimizer an even more effective tool for value-based selection of partners.
We can now offer the sponsorship market an advanced, but very user-friendly, ValueMatch Application, that in a few seconds rank and make value match between the 250 companies and brands with the 150 largest sponsorships in the country, that are included in our databases. It's fast, easy and simple!
The new solution gives also both the sponsors and the rightsholders the opportunity to make simulations in the relation to the brand values and which weight each brand value should have, when the ranking is calculated.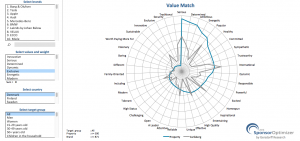 In other words we now offer an even stronger and powerful research tool, that in form and content is unique and at the forefront of sponsorship research.